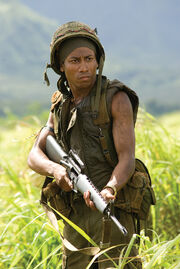 Biography 
Edit
Alpa chino was a rap star who wished to cross over to acting . Already known for his booty sweat and bust-A-nut consession foods . Acting as the soldiers called Motown in the original script . He partook in the huge escapades of the group during Tropic Blunder . 
During their time together he often had many feuds with Kirk Lazarus , as the Australian actor often portrayed rude black stereotypes through his character . One resulted in them almost fighting 
Ad blocker interference detected!
Wikia is a free-to-use site that makes money from advertising. We have a modified experience for viewers using ad blockers

Wikia is not accessible if you've made further modifications. Remove the custom ad blocker rule(s) and the page will load as expected.