Tugg Speedman / Sgt. Four-Leaf Tayback
Character information
Gender

Male

Status

Alive

Allies
Portrayer(s)
<span class="content-bg rbottom" style="background:
"></span>

Tugg Speedman is portrayed by Ben Stiller.
Biography
Edit
Simple Jack
Chitlin' and the Dude
Scorcher
Scorcher II
Scorcher III
Scorcher IV
Scorcher V
Scorcher VI: Global Meltdown
Tropic Thunder
Edit
Academy Award Win
Edit
Appearances/Actors
Edit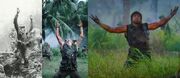 External links
Edit
Ad blocker interference detected!
Wikia is a free-to-use site that makes money from advertising. We have a modified experience for viewers using ad blockers

Wikia is not accessible if you've made further modifications. Remove the custom ad blocker rule(s) and the page will load as expected.